Allison WIlliams'
Women in Ministry

Scholarship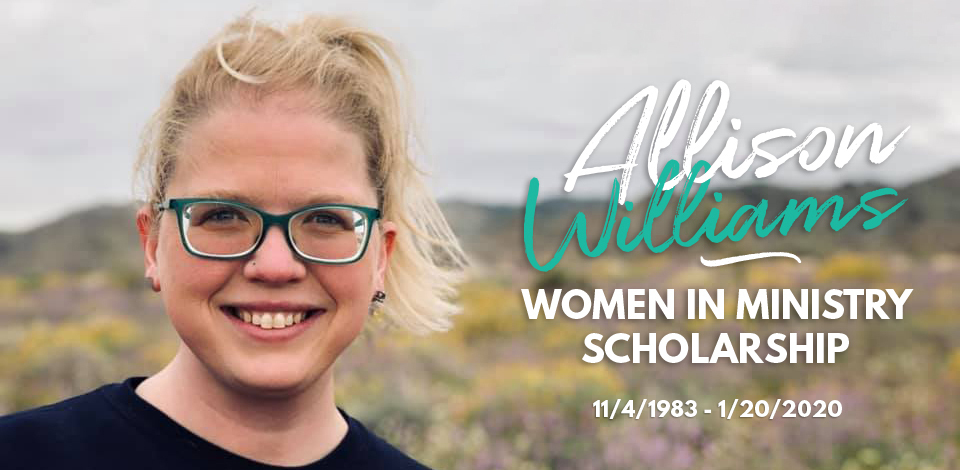 Allison Williams loved Jesus deeply and teenagers fiercely. She was loyal, playful, funny, smart, caring, justice-seeking, Jesus-following, opinionated and yet so very humble.
She served as a youth worker for fifteen years in Seymour, Indiana. We lost someone very special when she unexpectedly passed away due to complications from the flu on January 20, 2020.
Allison was a beloved part of Download Youth Ministry, and a good friend to us (Doug & Josh). In addition to authoring over 50 resources with DYM, she found a role on our volunteer work team that fit her schedule and gifting. She loved our little tribe at DYM and was always protecting us and at the same time pushing us to be/do better. She was all DYM all the time and we loved everything she gave us (she had idea-chops for sure!).
Allison was a voice of powerful encouragement and gracious honesty to everyone she met. With other women in ministry, she was intentional about equipping, building confidence, and reminding them of the value of their voice. With other men in ministry, she consistently and lovingly helped us see youth ministry from the perspective of female leaders and students. DYM's mission to "help youth ministers win" was woven into her DNA and she was such a strong advocate for others.
"She made ministry challenging and fun. She said I had value, that I should try things, reach higher, think bigger, speak up. She made sure I was working toward the things I was capable of doing. She didn't let me hide behind my excuses. Yet she gave me grace and love and support when I needed it. Since we became friends, my life has simply taken a new direction and there's no going back."
"Allison Williams will always be one of my favorite youth workers! She worked in a small town but there was nothing small about the way she approached life. She had big ideas, big personality, big opinions and everything was expressed with a big amount of joy! She had a loud laugh and a tender heart. After watching her ministry for a few years, I invited her to speak at the National Youth Workers Convention because she had such unique and passionate views of pastoral care. She made me want to be a better youth worker and she made DYM better in so many ways. Can't wait to be with her again!"
Continuing Allison's Legacy:

Women in Ministry Scholarship
We want to continue her legacy by establishing the Allison Williams' Women in Ministry Scholarship. All royalties from her resources go directly towards awarding a DYM Gold Membership for an entire year to fantastic women serving in youth ministry.
This is for a woman who serves as the main leader of a youth ministry (whether paid or volunteer), and has been nominated by someone.
Ready to
Nominate?
Words matter – and we believe this scholarship becomes even more special when it comes with your words of affirmation as you share about why you are nominating this woman to receive this special scholarship.
*We provide scholarships for youth ministry resources ONLY.
Nominate

a Woman in Youth Ministry to be awarded this scholarship!
"Therefore, whenever we have the opportunity, we should do good to everyone – especially to those in the family of faith."
Contribute

to the Scholarship Fund
directly through the Donate Page
by purchasing Allison's resources. Some of her most well-loved are "Everyone's a Cactus," "Food Fundamentals," and "Ten-Week Internships to Go!"
Listen

to "Women in Youth Ministry" panel from NYWC 2019

This panel features Allison Williams (along with Katie Sadler Edwards, Ashley Marie Bohinc, and Jessica Sanchez). If you are a male youth worker, consider how you can be a voice of encouragement and empowerment to the women around you. If you are a female youth worker, be encouraged in your Kingdom calling.
Encourage

Someone

Write a Handwritten note to someone you can encourage. "There are few things more touching than a handwritten note. You probably have a thoughtful card or two that you have received over the years tucked away somewhere safe. A handwritten message is special, and communicates value to the recipient." – Allison Williams, in her resource 'Handwritten Notes.
Make Room

at the Table

What opportunities have you enjoyed that you could share with someone else? Who can you connect? Who can you raise up with new responsibility? Be an includer who opens the circle wider.
Consider These
Resources
You'll contribute to the scholarship fund when you buy one of Allison's resources. Additionally, other DYM Authors who knew and loved Allison have offered some of their own resources and royalties to be donated to the scholarship fund, all of which you'll find here.