Who loves a strong themed program? DYM sure does! So many potential October themes: disguises & masks... how God meets us in our fears... light overcoming darkness... come on... we could riff on these all day!
To get your creative juices flowing we built out an entire program for you... for FREE!
We chose the FEAR theme and started with a great teaching resource called "Are You Afraid of the Dark?" by Ken Leslie. This one-off message comes with so many goodies: stage designs, playlist, worship set, game, and a small group discussion guide!
We added in a few fun program elements from the DYM store, and even included a few ideas of our own. We had a blast putting it together and want you to have the complete program sheet.
We hope this ready-made program set can save you a ton of time preparing and inspire you with fresh ideas for your ministry!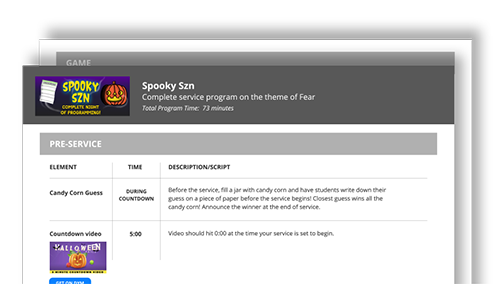 FREE Program PDF
Click to download and see what we created! The resources we chose are linked below.
Download the FREE PDF
This program was built a-la-carte with these DYM resources ($21.25 value):